Description

BARCHI HEAT 12V Heated Motorcycle Gloves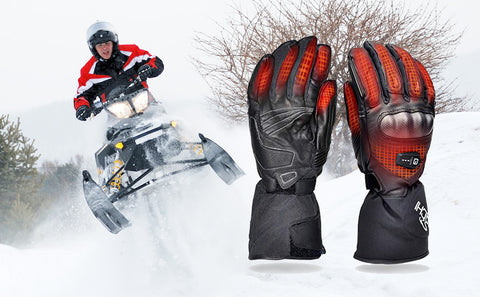 BARCHI HEAT 12V Heated Motorcycle Gloves Description
Features
BARCHI HEAT 12V Battery Heated Motorcycle Gloves with microcarbon fiber heating panels extend from the back of the plams down to each fingers to keep your entire hand and each fingers warm and toasty.

BARCHI HEAT 12V Electric Heated Motorcycle Gloves with wind and waterproof material,has an impenetrable layer to prevent any water or wind from coming through your gloves, while still being highly breathable.

BARCHI HEAT 12V Unisex Heated Motorcycle Gloves with touch sensors on index finger will work on any smart device . Convenience to use.

BARCHI HEAT 12V Rechargeable Heated Motorcycle Gloves support to charge motor power directly.

BARCHI HEAT 12V Warm Heated Motorcycle Gloves includes 1 set fuse kit and cables for power by motor battery.
Washing Instruction
Take out batteries

Hand Wash (Suggest)

Machine Wash (put it into washing bag)
Material Content
sheep leather ,wind and water resistant polyester, cotton , soft fleece

Ultra-fine carbon fiber heating panels
BARCHI HEAT 12V Heated Motorcycle Gloves Men WomenBARCHI